Regular price
Sale price
$89.99
Unit price
per
Sale
Sold out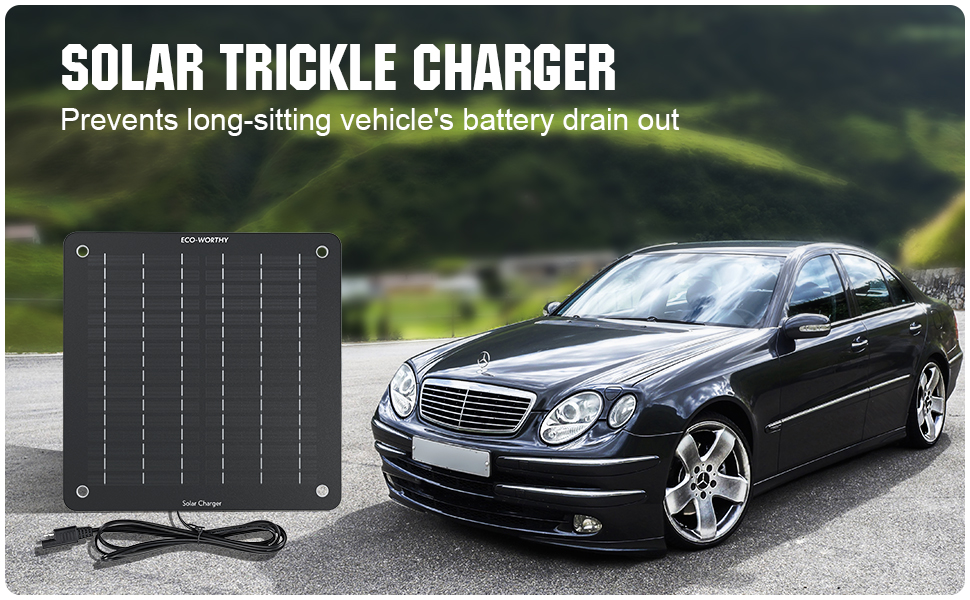 WHY DO WE NEED A SOLAR TRICKLE CHARGER?
[ Top up your vehicle easily ]

 - Automotive batteries naturally discharge when it's not in use, and those more than 30 electrical modules as computer, alarm system, immobilizer and lock monitoring, all consume electricity from the battery. These issues make it hard to boot. Solar trickle charger solve the startup problem by keeping the battery active.

[ Prolong the battery longevity ] 

- a 12V battery that is not correctly maintained above 12.4V will suffer from sulphation, which the main cause of battery died. That's why the vehicle battery easily goes to dead when vehicles are left sitting for too long. Eco-Worthy Solar trickle charger prolong the longevity with continuous trickle charging to the battery.
[ Multiple protection, portable, reliable charger ] 

- With overcharge&reversal drain protection modules, convenient to use the 11inch Eco-Worthy solar trickle charger with various vehicle, RV, Camper, Tractor, Boat, etc.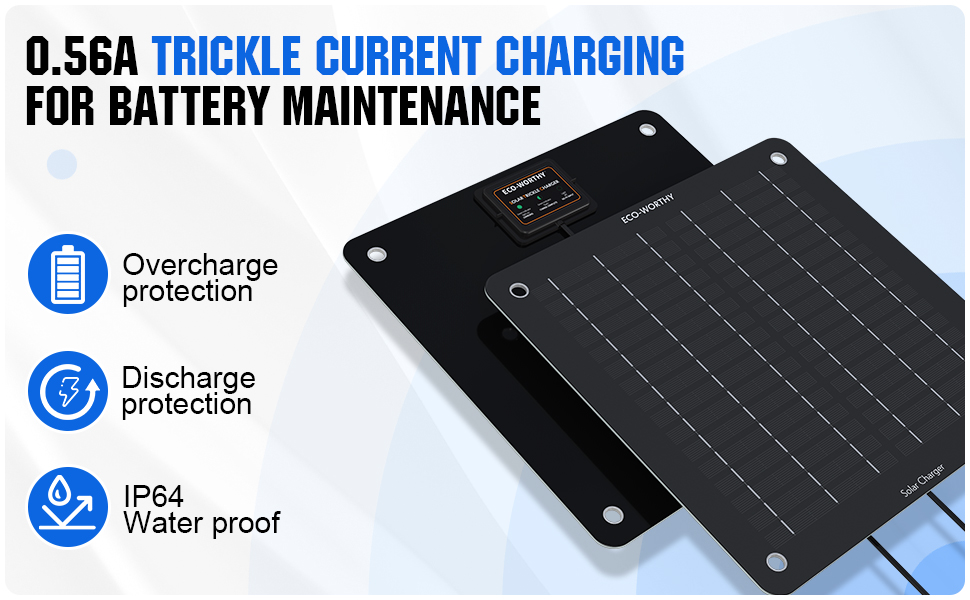 Auto disconnect when fully charged, Just leave it alone
Built-in diode to prevent reverse current, no need to cut it off at night

Sealed Surface and IP64 junction box, suitable for all seasons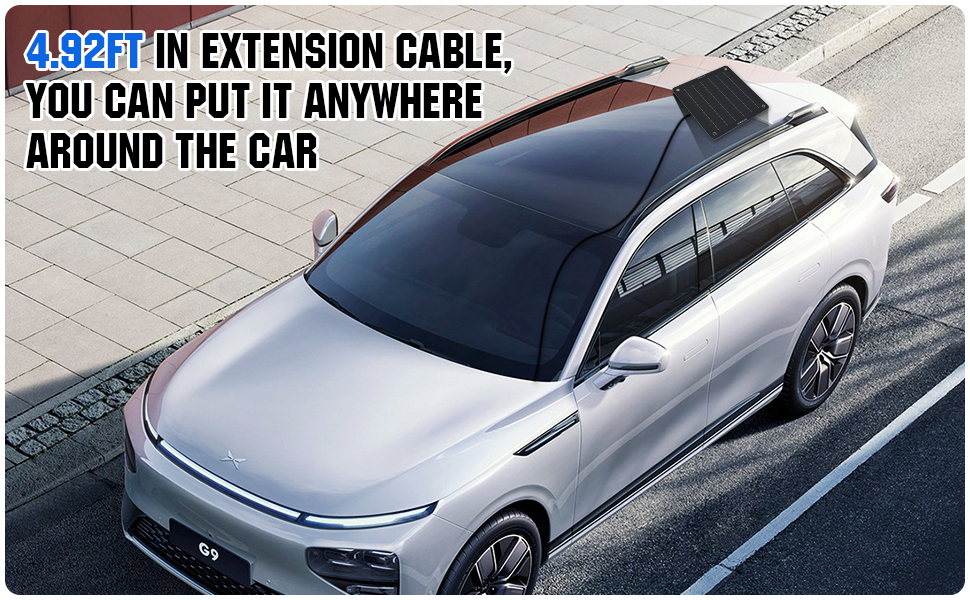 Specification

Rated Power: 5W

Solar Cell: Monocrystalline

Open Circuit Voltage(Voc): 22.41 V

Maximum/Peak Voltage(Vmp): 18.7V

Short circuit current (Isc): 0.3A

Working current (Iop): 0.28A

Over-charged protection voltage: 14.5V

Over-charged recovery voltage: 13.0V

Size: 7.9*7.9*12mm (11*10*0.47 inch)

Weight: 0.4 pounds

Length of extension cable: 150cm (59 inch)

Length of alligator clips cable: 50cm (19.7inch)

Length of cigarette lighter plug cable: 50cm (19.7 inch)
View full details
Compatible Vehicles
Alfa Romeo

Alfa 145/146 (All Years)

Alfa 155 (All Years)
Audi

A6 (All Years)

A8 (All Years)

TT (All Years)
30-DAY MONEY BACK GUARANTEE
You are fully protected by our 100% Money Back Guarantee.
If you don't like our products over the next 30 days, then we will gladly refund your money.
No questions asked!
Fast Shipping

Quick fulfillment. Quick delivery.

24/Hr Support

Get help within 24 hours.
FAQs
Shipping

All items are delivered within 2-4 working days (up to 6 working days in rural and remote areas) By our delivery partner: USPS 

A tracking number will be provided upon dispatch and will be delivered to your selected email address. 

 All orders are dispatched through our express tracked delivery service: USPS express. 

 
Returns

1. All returns must be postmarked within (30) days from the day you receive the item.

2. You may both return used items and also any brand new items. 

3. Shipping cost will also be refunded.  

4. Return label will be within the parcel.
Privacy

At Pro Tronics USA, accessible from www.pro-tronics-usa.com, one of our main priorities is the privacy of our visitors. This Privacy Policy document contains types of information that is collected and recorded by pro-tronics-usa and how we use it.

If you have additional questions or require more information about our Privacy Policy, do not hesitate to contact us.

This Privacy Policy applies only to our online activities and is valid for visitors to our website with regards to the information that they shared and/or collect in pro-tronics-usa. This policy is not applicable to any information collected offline or via channels other than this website. 

Consent

By using our website, you hereby consent to our Privacy Policy and agree to its terms.

Information we collect

The personal information that you are asked to provide, and the reasons why you are asked to provide it, will be made clear to you at the point we ask you to provide your personal information.

If you contact us directly, we may receive additional information about you such as your name, email address, phone number, the contents of the message and/or attachments you may send us, and any other information you may choose to provide.

When you register for an account, we may ask for your contact information, including items such as name, company name, address, email address, and telephone number.

How we use your information

We use the information we collect in various ways, including to:

Provide, operate, and maintain our website
Improve, personalize, and expand our website
Understand and analyze how you use our website
Develop new products, services, features, and functionality
Communicate with you, either directly or through one of our partners, including for customer service, to provide you with updates and other information relating to the website, and for marketing and promotional purposes
Send you emails
Find and prevent fraud

Log Files

Pro Tronics USA follows a standard procedure of using log files. These files log visitors when they visit websites. All hosting companies do this and a part of hosting services' analytics. The information collected by log files include internet protocol (IP) addresses, browser type, Internet Service Provider (ISP), date and time stamp, referring/exit pages, and possibly the number of clicks. These are not linked to any information that is personally identifiable. The purpose of the information is for analyzing trends, administering the site, tracking users' movement on the website, and gathering demographic information.

Cookies and Web Beacons

Like any other website, Pro Tronics USA uses 'cookies'. These cookies are used to store information including visitors' preferences, and the pages on the website that the visitor accessed or visited. The information is used to optimize the users' experience by customizing our web page content based on visitors' browser type and/or other information.

For more general information on cookies, please read the Cookies article on Generate Privacy Policy website.

Advertising Partners Privacy Policies

You may consult this list to find the Privacy Policy for each of the advertising partners of Pro Tronics USA.

Third-party ad servers or ad networks uses technologies like cookies, JavaScript, or Web Beacons that are used in their respective advertisements and links that appear on Pro Tronics USA, which are sent directly to users' browser. They automatically receive your IP address when this occurs. These technologies are used to measure the effectiveness of their advertising campaigns and/or to personalize the advertising content that you see on websites that you visit.

Note that Pro Tronics USA has no access to or control over these cookies that are used by third-party advertisers.

Third Party Privacy Policies

Pro Tronics USA's Privacy Policy does not apply to other advertisers or websites. Thus, we are advising you to consult the respective Privacy Policies of these third-party ad servers for more detailed information. It may include their practices and instructions about how to opt-out of certain options.

You can choose to disable cookies through your individual browser options. To know more detailed information about cookie management with specific web browsers, it can be found at the browsers' respective websites.

CCPA Privacy Rights (Do Not Sell My Personal Information)

Under the CCPA, among other rights, California consumers have the right to:

Request that a business that collects a consumer's personal data disclose the categories and specific pieces of personal data that a business has collected about consumers.

Request that a business delete any personal data about the consumer that a business has collected.

Request that a business that sells a consumer's personal data, not sell the consumer's personal data.

If you make a request, we have one month to respond to you. If you would like to exercise any of these rights, please contact us.

GDPR Data Protection Rights

We would like to make sure you are fully aware of all of your data protection rights. Every user is entitled to the following:

The right to access – You have the right to request copies of your personal data. We may charge you a small fee for this service.

The right to rectification – You have the right to request that we correct any information you believe is inaccurate. You also have the right to request that we complete the information you believe is incomplete.

The right to erasure – You have the right to request that we erase your personal data, under certain conditions.

The right to restrict processing – You have the right to request that we restrict the processing of your personal data, under certain conditions.

The right to object to processing – You have the right to object to our processing of your personal data, under certain conditions.

The right to data portability – You have the right to request that we transfer the data that we have collected to another organization, or directly to you, under certain conditions.

If you make a request, we have one month to respond to you. If you would like to exercise any of these rights, please contact us.

Children's Information

Another part of our priority is adding protection for children while using the internet. We encourage parents and guardians to observe, participate in, and/or monitor and guide their online activity.

Pro Tronics USA does not knowingly collect any Personal Identifiable Information from children under the age of 13. If you think that your child provided this kind of information on our website, we strongly encourage you to contact us immediately and we will do our best efforts to promptly remove such information from our records.
Billing

Orders are paid through the Shopify platform, via credit, debit or prepaid card (Visa, Amex, Mastercard, Maestro). 

You can also pay through Apple, Google pay and Afterpay.

The payment will be made in full, prior the dispatch of your order, through our payment partner: STRIPE (unless you are paying through the Klarna Installment program).

Orders are dispatched on the same day and the delivery takes 1-2 working days.
Disclaimer

If you require any more information or have any questions about our site's disclaimer, please feel free to contact us by email at info@pro-tronics-usa.com. 

All the information on this website - www.pro-tronics-usa.com - is published in good faith and for general information purpose only. pro-tronics-usa does not make any warranties about the completeness, reliability and accuracy of this information. Any action you take upon the information you find on this website (pro-tronics-usa), is strictly at your own risk. pro-tronics-usa will not be liable for any losses and/or damages in connection with the use of our website.

From our website, you can visit other websites by following hyperlinks to such external sites. While we strive to provide only quality links to useful and ethical websites, we have no control over the content and nature of these sites. These links to other websites do not imply a recommendation for all the content found on these sites. Site owners and content may change without notice and may occur before we have the opportunity to remove a link which may have gone 'bad'.

Please be also aware that when you leave our website, other sites may have different privacy policies and terms which are beyond our control. Please be sure to check the Privacy Policies of these sites as well as their "Terms of Service" before engaging in any business or uploading any information.

Consent

By using our website, you hereby consent to our disclaimer and agree to its terms.

Update

Should we update, amend or make any changes to this document, those changes will be prominently posted here.
Contact Us

Office Address:
1309 Coffeen Avenue
Sheridan, Wyoming
82801

Hours (EST/PST):
Mon-Fri: 9/6am - 5/2pm
Sat-Sun: 11/8am - 4/1pm

Email:
info@pro-tronics-usa.com